Oh My God! Oh My God! Oh My God!!.....
Pronto, já passou...
A surpresa da temporada! Uma santa duma mulher resolveu escrever a sequela de North and South, dando-lhe o título de 'Northern Light'. A santa chama-se Catherine Winchester e obviamente só podia ser britânica. Abençoada mulher! Espero que não me desiludas. Já li algumas (e interessantes) fanfictions da obra de Elizabeth Gaskell que continuavam a história de Mr Thornton e Margareth Hale. Contudo, se esta obra teve honras de publicação deve ser muito boa.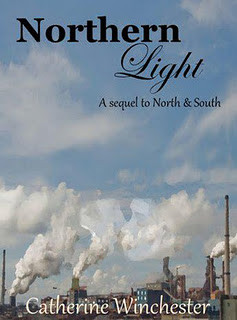 'Northern Light' descrito no site da autora:
"A sequel to Elizabeth Gaskell's classic novel, North and South, Northern Light sees John and Margaret embarking on their lives together whilst working to improve the lives of their work force.
With the threat of another strike, a series of bad mill accidents, a lethal fire and failed speculation, life in Milton is not easy for anyone and it won't be long before the mill masters and their workers clash once more, with devastating consequences.
Getting married and starting a family is difficult enough at the best of times but for John and Margaret, married life will present unique challenges and despite the reforms they are making, even they will not escape Milton's troubles unscathed".
Catherine Winchester descrita no seu site:
"As a young child, Cat loved reading; spending hours devouring her Storyteller series, but as she grew up her love of books faded. Faced with choices like the Famous Five or the Railway Children, and combined with dyslexia which wasn't recognised, Cat's love of reading dwindled.
In her early teens however, she discovered science fiction, staying up to 2am to finish her first sci-fi novel. This reignited the love affair and Cat soon realised that she no longer needed to be stuck in the childrens' section  and graduated to adult literature.
When she finally got an English teacher who cared just as much about content as grammar and spelling, her love expanded to include writing. She penned many stories in notebooks but thanks to rather illegible handwriting, most of these stayed confined to notebooks. When she was 15 she discovered computers and Cat has never looked back. She penned her first novel on the school computers and it amuses her no end when she thinks of her teachers stumbling across that first, amateurish work.
When asked why she loves reading and writing so much, Cat's answer is simple. "There have been some very dark and lonely times in my life and during those times reading was my lifeline. It allowed me to step out of my own head and into someone else's world; somewhere I could forget my own problems, if only for a little while. When I discovered writing it was the same thing, except I could control the world I was in and manipulate it to my own desires."
(Sorry, I'm so excited with the news that I can't find the will to translate this).